Need to make a quick selection. Don't rule out the Quick Selection tool. It might be hidden under the Magic Wand Tool.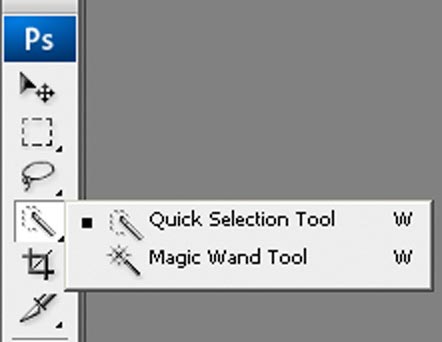 The Quick Selection Tool works by allowing you to paint a selection, with the selection snapping to details as you select.
Follow these steps:
Select the Quick Selection Brush

Click the Brush menu in the Options bar to set a brush size.

Choose from the following options:




Sample All Layers: makes a selection based on all layers in an image.

Auto-Enhance: reduces roughness in the selection boundary.

Paint over the part of the image you want to select. As you paint near the edges of a shape, the selection area extends to follow the shape edge.

After making the first selection, the tool's option changes automatically to Add to Selection. Continue painting to select more pixels.

To remove pixels from a selection, click the Subtract from Selection option in the Options bar, then drag over an area that is already selected.






The Quick Selection Tool is great for selecting large areas of similarity like backgrounds, skies or similar colors.